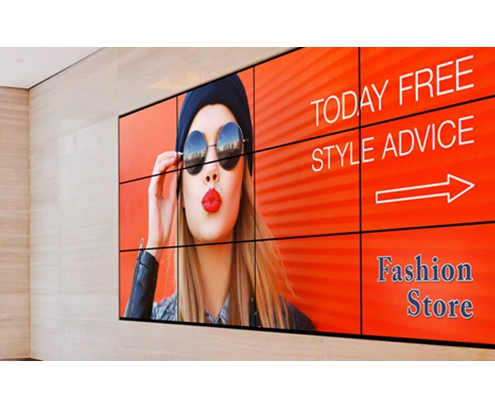 As high brightness sunlight readable lcd digital display solutions continue to evolve, it's important to get a sense of where the overall market is headed by looking at a few of the key trends shaping display today and in the near future:
Better analytics.
With the sheer amount of lcd digital signage display solutions around us as consumers today, it's easy for signage to get lost in the commotion. As a result it's now more important than ever for digital display signage to be more closely tailored to its intended audience.
Personalising digital solutions has become a key focus for businesses and is becoming all the more possible with the use of better analytics, now improving almost daily with the assistance of new technologies like AI. Many businesses are beginning to utilise AI as a way to analyse historical customer data to deliver more effective, personalised content through their digital display solutions.
An increasing number of displays.
Recent studies have shown trends moving towards businesses (mostly retail/consumer) exclusively communicating with customers via display panels. Many businesses are looking to eliminate queues and checkouts to allow shoppers to buy without needing any employee assistance (food chains increasing touch screen ordering systems or self-serve checkouts at supermarkets for example).
The recent retail data points towards these trends, with many industries already deploying digital display solutions or planning to in the near future:
54% of restaurants plan to use digital signage in more locations
40% of retailers plan to use digital signage in the future
63% of banks have installed digital signage or plan to install it
Mobile Integration
Smartphones would be traditionally thought of as a rival to digital display screens, often taking consumer's attention away from their outer environment. However, they have a significant role to play in the future of digital display as an interactive tool for users, as well as a way for businesses to better understand their customers by engaging with them on different personal levels by delivering personalised content.
This way of thinking is already being utilised in various global airports, with digital menu boards, kiosks and information displays which interact with smartphone apps to help customers with a variety of tasks.
Cloud-based technology
In the past and within many currently installed digital display solutions, the most commonly used technology for updating media within a display has been SD cards. Recently, a better method of doing this has been gradually evolving into the digital signage market; cloud technology. Using the cloud in digital display is secure, effective and offers instant, scalable implementation while increasing content security and decreasing maintenance costs.
Interactivity
Restaurants are probably the most well-known adopters of interactive digital signage technology for consumers. The willingness of customers to accept interactive solutions like table-top screens with ordering, gaming and promotional functions has led to a dramatic growth in interactive digital signage solutions across the sector. Interactive displays are making their way into other industries such as direct advertising and retail marketing, with customers embracing the technology as an easier way to connect with businesses.
Streaming content in real-time
Digital display solutions are designed with a host of goals in mind which all boil down to one goal: To create a great digital experience. When you combine real-time content streaming with rich media in any business landscape that is exactly what you achieve.
Businesses have infinite opportunities to explore from streaming live content. The latest media players have the ability to act as IP servers on video walls or display screens for streaming media. These act as a perfect way to entertain, encourage and teach consumers about services or products offered by any business.
There are numerous trends that are shaping the future of digital signage, and you can expect this to grow exponentially as the market continues to grow. However, to get the most out of them, consider a system that corresponds to your business needs and one that makes sense from an overall corporate viewpoint.
If you think your consumer's experience with your product or service could be enhanced with the use of digital display, speak with one of our experts about our different options for a number of industries.
https://cnnlcd.com/wp-content/uploads/2020/07/header_videowall_en_副本.jpg
400
495
administrator
https://cnnlcd.com/wp-content/uploads/2020/03/logo-1.png
administrator
2020-07-10 02:13:04
2020-07-10 02:13:04
Digital display solutions and their future in business