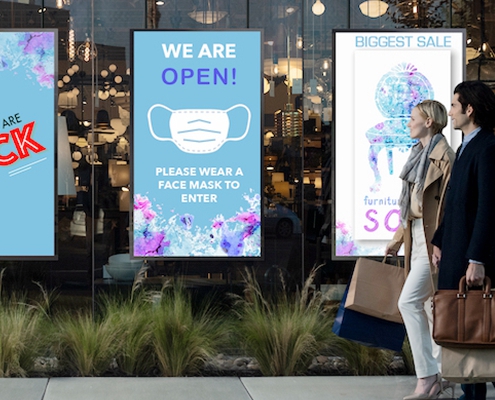 Practically every non-luxury retailer has been known to high brightness sunlight readable display posters in their shopfront windows spruiking price discounts, special offers or inventory sales in the past, many of which continue to do so today.
Currently, retailers are beginning to use sunlight readable window facing display storefront digital signage to drive retail traffic in its varying forms. Utilizing digital displays helps to achieve the same strategies and goals as traditional advertising methods, but uses far simpler and more flexible methods to do so. We're seeing retailers – big and small – installing lcd screens into stores to achieve specific goals like improving customer experience, increasing foot traffic, boosting sales and better all-round branding.
Why You Should Take Things Digital
While traditional methods like posters and lightboxes may seem inexpensive in the short term compared to digital displays, many retailers find the opposite in the long run. With key factors like reduced material and operational costs, higher impact content, change-out speed and expanded inventory driving the storefront transformation at a diminishing cost over time.
Reduced Material and Operating Costs
By installing digital signage in a retail setting, businesses can look forward to reduced costs in both resources and operational wages. Think shipping expenses for promotional materials, man-hours devoted to hanging posters and inspections/updates from marketing and regional management. All of these costs can be reduced significantly with the introduction of digital signage into a retail setting.
Higher Impact Content
Traditionally, retailers using print needed to keep the messaging short, crisp and to the point with only the one opportunity to display a promotion on any given advertising board. With digital displays, retailers are able to add video and motion graphics, cycling through multiple benefits, price offers and calls to action with the ability to still keep the messaging clear and simple as opposed to fitting everything onto the one board.
Change-Out Speed
Sticking a poster onto the shopfront window might only take a minute, but the planning and coordination behind those promotions can take weeks. Any artwork for the posters goes through the whole creative process, then to pre-press and print and finally shipped off to all stores within the retail chain. This whole process requires a high level of project management and production coordination and also needs to be checked regularly for compliance – to make sure all retailers are using the material as intended.
Utilising digital signage, any artwork that has been created can be scheduled, targeted and distributed as new marketing content to all retailers in a few minutes. Getting retailers to comply to the promotion 100% shouldn't be an issue as all content would be served from a shared network to digital displays. With smarter internal inventory systems it's even possible to automate digital displays to update products and offers according to stock levels for example.
Expanded Inventory
Digital signage gives retail storefronts the ability to sell as many products as they want and display as many messaging as needed, all on the one display. This means they can promote larger chunks of their inventory, choosing specific campaigns to target niche audiences. Think food operators being able to change their messaging on any given display from breakfast, to lunch and then dinner specials instead of showing poster signage for all 3 menus at all hours.
If your business has any retail storefront still using the more traditional advertising methods, using digital signage to drive retail traffic could work to reduce your running costs in the long term, and revolutionise your outbound messaging.
For an analysis on how digital display could improve your retail offering, speak to one of the experts at Fengshi today.
https://cnnlcd.com/wp-content/uploads/2020/07/inwindowdisplay2-3.jpg
400
495
administrator
https://cnnlcd.com/wp-content/uploads/2020/03/logo-1.png
administrator
2020-07-09 02:53:24
2020-07-09 02:53:24
Using digital signage to drive retail traffic