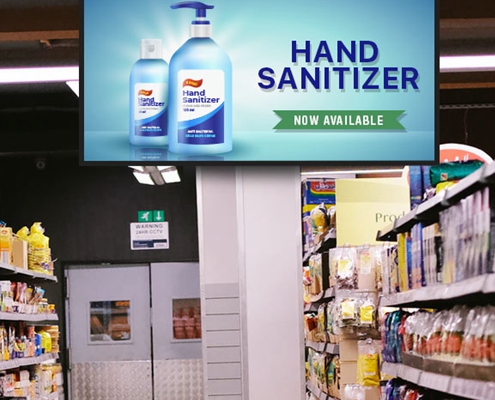 The entire world is fighting a difficult situation this year. The sudden outbreak of COVID-19 has left everyone stressed and anxious. People are scared to go out and if they do, they need to be absolutely careful. Every business is facing crises. Exploring new ways to fulfil the current need and also assuring safety are the steps businesses should take to survive.
In this Pandemic, retail sector has faced a down hit but also has an opportunity to navigate new ways and turn this into growth. Cloud based tech solutions are imperative in such times to reach masses and market one's offerings. Retail digital signage is one such mode that can be employed in several ways by the retail industry to communicate with masses and keep them informed about one's services. Both demand and supply chains are worst affected and hence it becomes a responsibility to keep your customers well prepared for the situation.
5 Ways LCD Digital Signage Help Retailers in Corona Crisis
1) Keep your customers informed about the stock availability
If you are a retail service provider that offers perishable items or are providing items used on a daily bases, it is quite possible that you won't be able to meet the uncertain surge in the demand of these items while people are planning to stock them. It is also possible that people might queue up and you need to communicate them about the availability of goods.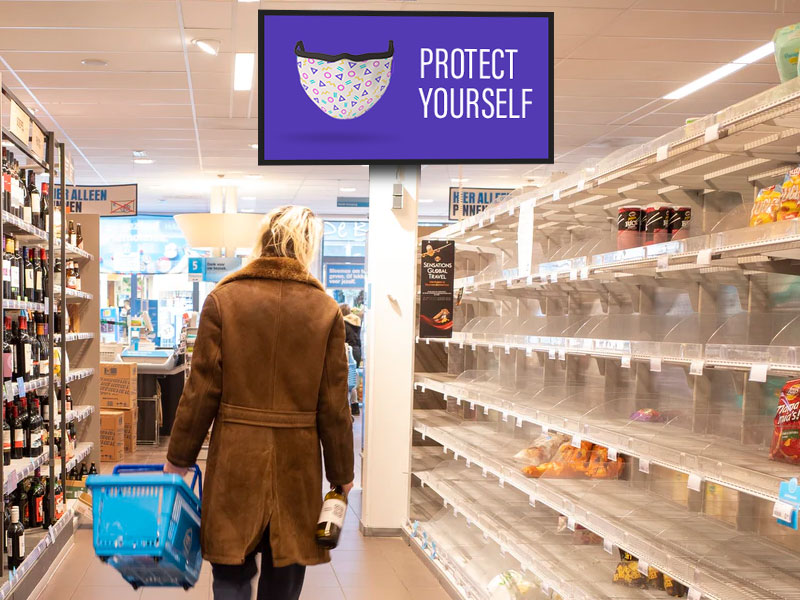 High Brightness LCD Digital signage can come to handy in this situation. Instantly update the status of items available and those not available so customers can prepare their list well in advance. If a certain item goes out of stock, it can be easily update on the Digital Signage. This creates less chaos and helps you manage the customer needs smoothly.
2) Display way finding so customers don't crowd up
If you own a big retail shop or a mart, using signage to guide the customers on the stock at every section can be a great way to streamline the crowd and spend their time searching for items. A digital signage at the entry guiding on the sections and where they are placed can be a good way to lead the pack of customers.
The placing the digital signage can be such that customers can know where each a every section is easily and proceed to make purchases accordingly. The benefit of digital signage over paper prints is that they can be updated as an when needed when the stock sections are changed.
3) Inform customers on offers available on needed items so they can benefit from it
Every customer loves to benefit from offers and when it comes to necessity items, they tend to grab more eyeballs. Display the list of offers on the digital signage so customers can benefit from it. This also induces them to turn your loyal customer and visit your retail shop every time they are looking to make any purchase.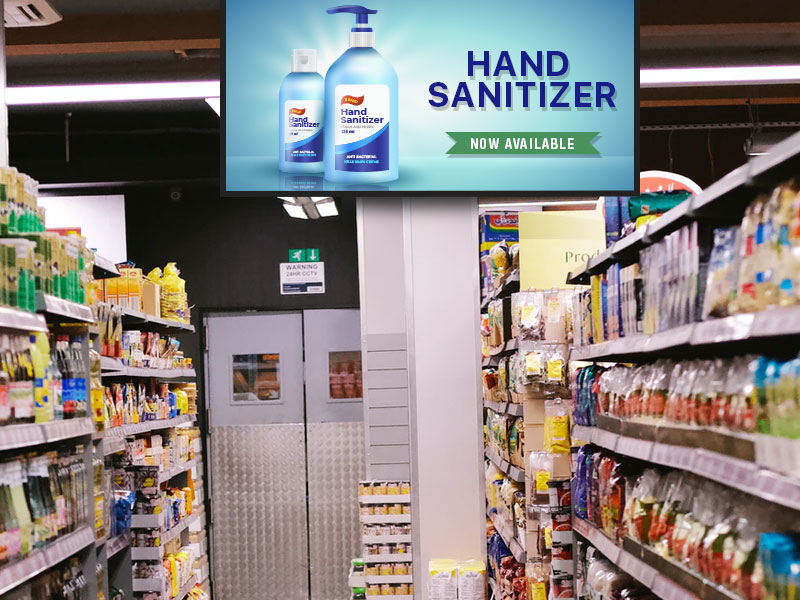 As a retail owner, one can also create offers to clear the perishable stocked up items and display them. Since the offer is store specific, it grabs more eyeballs and more people are induced to make purchases. By displaying offers in a way that they communicate the message effectively, good benefits on both the customer side and the retailer's side can be established.
4) Display newly added items essential during the Pandemic to grab more footfalls
As a retail outlet, one can always choose to add more items to their stock to sell. This offers an opportunity to add the needed items during the pandemic like masks, sanitizers, soaps or any other item to be used on a daily basis to your outlet.
Tough times always require innovative and flexible ways to adapt to the situation and your retail outlet can well serve for the same. Putting a digital signage with the images of the needed items will get your more sales and also provide your customers with the items they have been looking for elsewhere.
5) Showcase engaging content to keep your customers calm
It goes without saying that the current situation can cause anxiety. We would often dive into thoughts that are negative, frustrating and not necessary. By high brightness lcd screen displaying content that is inspiring, entertaining and informative can help keep the nerves steady.
There are several communities in our society that are making efforts to help each other – as a retailer you can showcase the same so if people are wanting to volunteer, they can do so. High Brightness Digital signage is in a way a mode of communication that will grab eyeballs and it depends on you as a retailer how to benefit from it.
https://cnnlcd.com/wp-content/uploads/2020/08/stock-availability-on-digital-signage-1.jpg
400
495
administrator
https://cnnlcd.com/wp-content/uploads/2020/03/logo-1.png
administrator
2020-08-24 07:38:45
2020-08-24 07:42:29
How digital signage helps retailers to stay ahead in COVID-19 outbreak?