Online sales are continuing to grow around the world, but the fact remains that brick-and-mortar stores are still the venue where most of the shopping takes place. In today's distributed commerce world, it is important to catch shopper's eyes without relying on eye-level placements and a digital shelf is how shoppers discover your products giving the brand control of the appearance of the displayed items. Product content is how you tell your brand's story, list ingredients, convey the appearance of items. Making the items/products shine on the digital shelf ensures that consumers can find and purchase those items anywhere. "If it doesn't look good on the digital shelf, it won't move from the physical one".
What is a digital shelving solution?
A digital shelving solution comprises of:
• Commercial-grade screens, with hardened protective glass on the entire face of the displays making them resistant to demanding retail environment and harsh alcohol-based
cleaning solvents.
• A Powerful Content Management System (CMS).
• 4k Media Players (drive up to 24 screens).
Any technology that Fengshi offers has been developed specifically for retail environments, with the help of our retail experts. There are no compromises or cost-cutting corners, we have invested heavily in order to provide you with the best products possible.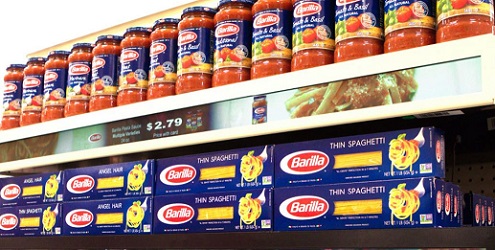 Key Features:
• Centralized publishing from a powerful Content Management System (CMS) – Change content on the fly, ability to get live updates and feeds so that your clients can be updated instantaneously. Enable retailers to make real-time, personalized offers to customers in-store.
• Content Scheduling – Enable retailers to update prices, offer intraday promotions, and gather data instantaneously and automatically, without error and the need for manual intervention.
• Extremely small 4K Media Players– Can drive up to 24 screens through the innovative use of daisy chain technology.
• Uniquely shaped screens– Specifically designed, developed, and approved for retail through a partnership with fixture manufacturers and technology providers. Give shoppers access to in-store product details, reviews, and alternative buying options.
• Easy to use software – CMS is used to create, edit, and publish the content that the audience is meant to see, interact with, or on which to take action.
Retail digital signage shelf display benefits:
Dynamic pricing.
• Attract shoppers from a distance with vibrant screens that integrate as headers or shelf edges, leverage high definition LCD screens providing highly engaging content.
• Engage customers by showing specific content based on gender, age, or mood by leveraging cameras and sensors combined with shopper analytics software.
• Sell to customers with product-specific campaigns and showing vivid color high-resolution videos or images with the ability to incorporate dynamic pricing and scannable barcodes or QR codes right on the screen.
• Measure the effectiveness and success of a specific campaign by analyzing shopper behavior based on traffic, dwell time, and demographics.
• Assist shoppers by guiding them around the store based on their shopping needs, call for assistance when they become frustrated or immerse them with a personalized concierge experience.
• Integrate inventory sensors to assist shop managers with always up-to-date inventory numbers, call for re-stocking or product facing when needed.
We're here to help!
We would love to understand more about your requirements. Got an idea but don't know how to make it a reality? Let one of our experts give you a call and discuss the options available. No hard sell, just sound advice and great ideas. Please feel free to contact us.
https://cnnlcd.com/wp-content/uploads/2020/08/stretched-lcd-bar-1.jpg
400
495
administrator
https://cnnlcd.com/wp-content/uploads/2020/03/logo-1.png
administrator
2020-08-19 02:05:05
2020-08-19 02:15:26
Retail solutions for the edge-smart digital shelving