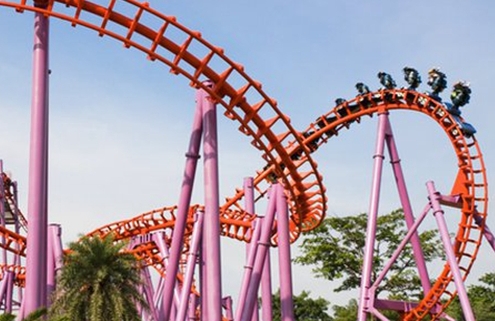 Digital signage can be just the right tool to help get amusement parks back on-track, because it can provide safety messages, sensors to enforce social distancing, instructions for guests and more.
Q. Have any of your amusement park customers discussed reopening with you?
A.They haven't talked specific dates with us – that is mostly protected information – but we are seeing more and more begin to open up. It is great to start seeing the major entertainment destinations getting back up and running.
Q.What are their major concerns?
A.The one thing that I keep hearing from them is safety. Safety of their staff and safety of the guests. That seems to be the most important part of getting their properties back up and running.
Q. How can digital signage help handle social distancing/health information at amusement parks?
A.It is huge. From custom messaging, from new 'Exit Only/Entrance Only', to reminders of their updated park rules – a lot of the information and guidelines that they need to relay to their customers has changed.
Static signage can't provide the ability to change the way digital signage can. The custom content and messaging that high brightness lcd digital signage enables is going to be a huge factor of reopening safely. Where this can make a big difference will be with audience analytics, where the high brightness lcd digital signage itself can monitor crowd size and direct foot-traffic as needed. With social distancing in place, indoor and outdoor spaces will be operating with limited capacities, and high brightness lcd digital signage can communicate to guests in real-time whether or not a space is at capacity, much like it already does for parking lots, for example.
Another benefit of high brightness sunlight readable lcd digital signage will be that guests can see its content from further away – meaning they no longer need to cluster around a display to see information. This helps keep foot-traffic moving and prevents crowds from gathering. Airports have gotten really good at taking advantage of this benefit as well.
Q. What role will touchless devices play?
A.I think they will be a very big part. We are already starting to see touchless thermometers and facial recognition systems to control the safety and health of the customers. On the other hand, while touchscreen displays had been a growing trend in the theme park space, especially with younger guests, I bet we see those recede a bit. The priority will be delivering and receiving information with as little contact as possible. Large-format LCD high brightness displays are pretty good at that.
Q. How can sunlight readable lcd digital signage help improve the customer experience at amusement parks during this time?
A. It is going to enable the park administration to keep custom, informative content displayed at all times. It can help identify crowded food courts, crowded restrooms and push them to less crowded parts of the park. The ability to keep these facilities safe is the number one priority and the custom nature of our signage and our content is going to play a huge part in keeping everyone safe and socially distant.
https://cnnlcd.com/wp-content/uploads/2020/07/cover_image_1592920714.jpg.760x400_q85_crop_upscale_副本.jpg
400
495
administrator
https://cnnlcd.com/wp-content/uploads/2020/03/logo-1.png
administrator
2020-07-07 02:01:38
2020-07-07 02:08:31
Digital signage help get amusement parks back on-track