While everyone knows the importance to health, they often fail to realize how important it is to hit a Gym for best results. Many opt for a New Year Resolution pushing them to head the Gym benches but what after that? The gym owners often struggle to figure out how to get a consistent flow of the membership and get renewals too.
Undoubtedly health is very important but with competition and many options available to potential members, getting memberships seems like a task. With time, technology has enhanced the ways to reach masses. Digital Signage is one such tool that has potential of grabbing more eyeballs and affecting the way health is perceived.
How does a digital signage work for gyms & fitness centers
Often we perceive what we see. This sets the very role of High Brightness Digital Signage to place. Placing digital signage in gym at crucial locations with the right content can help you boost on your lead generation for potential memberships. Reception area is one of the pivotal locations wherein offers on new memberships can be widely promoted, schedule of classes can be displayed or events, marathons and new initiatives can be promoted.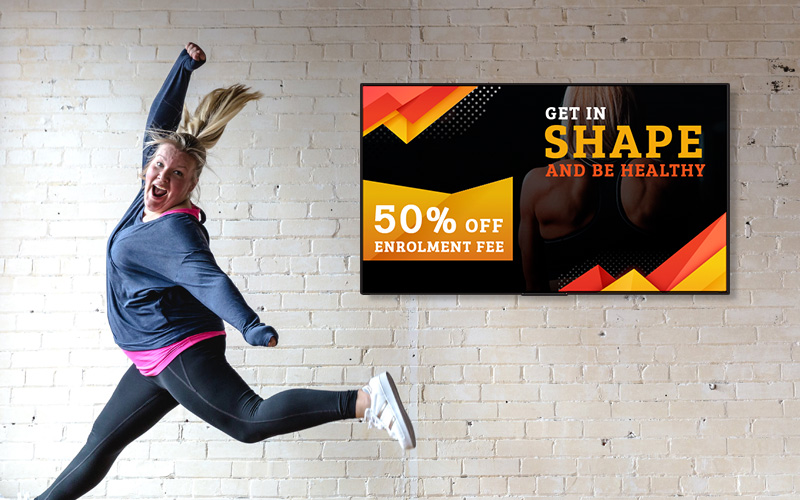 Digital signage at the café premise of your gym can promote the benefits of food that are a must for a healthy living. Digital Screen will also assist in creating an environment in the gym wherein people will want to work out daily.
How Digital Signage Helps to Increase Membership Retention?
1.Show them what you're worth with digital signage for gyms and fitness centres
Digital Signage are so versatile they can be used for numerous purposes. Any person who enters your fitness centre is a potential customer and the very fact that he/she is there is that they are already interested in having your services. The only thing now that remains is for you to convince them to choose you.
Display what is best about your Gym or fitness centre, showcase the results that one can achieve at your place and highlight the personal attention paid to each member. This will help you get more lead conversion. Step a bit further and go ahead to promote the add on services that you offer like in-house range of nutritional products, a newly introduced fitness class for people over 60, promote your referral or loyalty programs or display the achiever of the month from your centre. The possibilities are limitless with the chance of getting results gradually.
Competitions among members can be held and promoted thus pushing them to work hard with a healthy spirit.
2. Break your profit-making record by finding your target viewers
Digital Signage allow you to display the content as per your needs on the time and day as needed. With people of different age group entering your gym at different times, there is an opportunity to promote specific offers and events based on the time of their visits.
Offers like discount for dance and Zumba fitness sessions for teens, swimming or marathon for seniors, morning yoga sessions for working women, special health sessions for pregnant women can be promoted using Digital Signage to grab more signups.
Getting the right content at the right time is crucial and with Digital Signage this can be flexibly managed. Urgent updates to the current promotions can be managed and last-minute changes can be done too. The idea is that your message should hit the mark to get you the right results.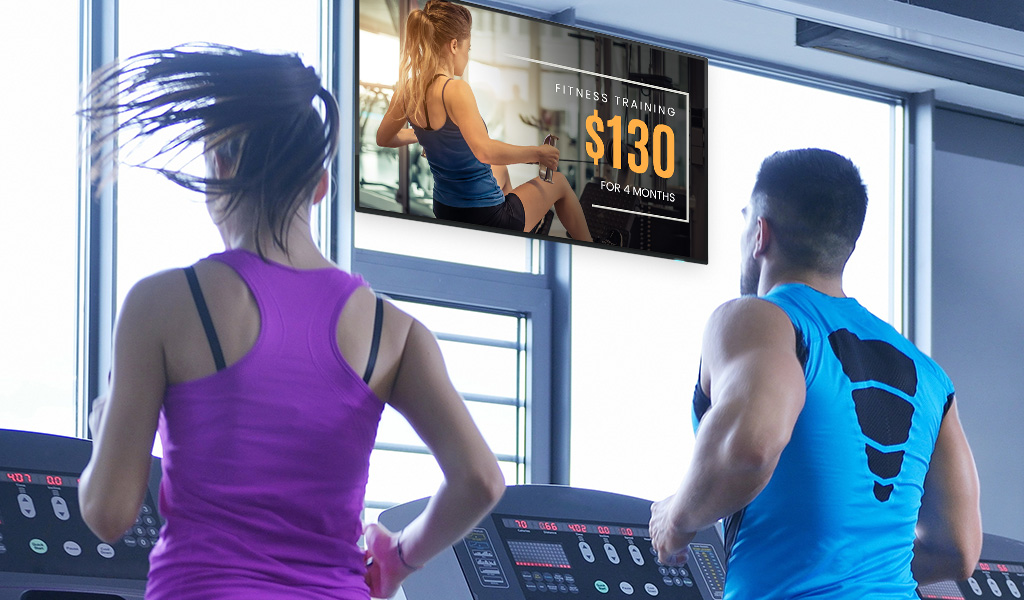 3. Digital signage for gyms and fitness centres keeps people motivated – and makes them renew their membership
While getting new signups is a part worth the effort, pulling the current flock of members again to renew their membership is a different story altogether.
Often people do reach to a point where they decide to pay for the gym membership after much thought but not everyone has the resilience to get used to the hard-hitting sessions and that too on a daily basis. This acts as one of the reasons why members don't go to renew the membership.
There are a group of people who join gym exclusively due to some important event happening to them like wedding or a long-awaited trip to their dream destination. One cannot expect this lot to hit the gym again unless they come to realise how beneficial it is to regularly workout. Of course, one cannot be forced to head to a gym but motivated enough to try.
Every member to a gym or fitness centre should be assigned a buddy or a trainer who motivates them and acts as their friend to achieve the right kind of living and understand how important it is to regularly exercise.
The buddy or trainer can use Digital Signage to show the effects on your body if not exercised regularly, sharing success stores of loyal gym members so they can be related to, they can be used to show quick exercises that are a must everyday for healthy living or show helpful tips on what kind of food to be eaten for a healthy living.
4. Let local businesses advertise on your digital signage for gyms and fitness centers
Digital signage are a best medium to cross sell for local businesses wherein related industries can promote other services to grab more customer base mutually. There is no harm in going for some advertising revenue, is it?
Local food partners, juice centres or health experts can be partnered with and promoted at Digital Signage in your gym. While some of your members might already be in search for them, others might decide to go to the promoted centre on impulse. Either way, this will help you as well to earn some bucks. The promoted centre in return may pave way to a flock of new members to your gym too.
How Much Does a Digital Signage Cost for Gym?
While the idea of having Digital Signage is tempting, gym owners often stop at the thought of putting any investment on it. While it is being decided to input some money on it, how much would it give as a return? And there is a need of Hardware and Software both.
Removing the dilemma, Digital signage are very easy to setup and operate. Most smart TVs can be used as a digital signage wherein the software can be connected using Amazon Firestick. The hardware is a one time investment. As for the software CMS, they are cost efficient and in return their benefits are worthy.
Conclusion:
Digital signage are gradually going to replace the large printed hoards we see. They are a smart, quick and reliable solution to promote your offerings. High brightness screen is one such Digital Signage Solution that offers an easy, ready to go and an affordable solution.
https://cnnlcd.com/wp-content/uploads/2020/08/increase-gym-membership-using-digital-signage-1.jpg
400
495
administrator
https://cnnlcd.com/wp-content/uploads/2020/03/logo-1.png
administrator
2020-08-25 02:01:35
2020-08-25 02:01:35
How to increase gym membership sales using digital signage?