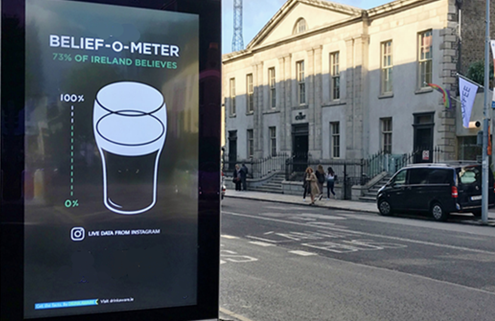 Most articles on the topic of Digital Signage trends start with predicted positive growth. In this article we'll be ignoring those numbers and rather talk about technology behind it. After all, we are manufacturer and not economists. So, what are the trends in digital signage industry?
32-inch to 75-inch range
LED displays are getting bigger and bigger, and technology behind it more refined. For example, in 2018, Samsung installed the largest curved display, with total surface area of 1,620 square meters – four times the size of a basketball court. But bigger isn't always better. No matter how big screens get, its function stays the same. Day-to-day engagement is better achieved with displays that offer a user-friendly and personalized experience. For this aspect, trend is in favor of LCD signs in the 32-inch to 75-inch range. These sizes get more technology in a smaller space. Their function is not only capturing attention, but in offering memorable experience.
Touchscreens
Regardless of the size, outdoor digital signs are a communication platform with targeted audience, placed in public areas. The digital signage industry started with simple outdoor advertisement displays, and has gradually has evolved into a comprehensive communication platform, used daily for multiple business functions and to deliver information in public places. The wave of innovation was and still is, rooted in interactivity. Introduction of touchscreens opened new horizons. It enabled two-way communication, which is still the main advantage of LCD digital signs.
Interactive experience engages users and enables personalized experience. Interactive touchscreens are essential to enabling the experience and making services, information and products more accessible. Whether cities want to communicate more seamlessly with their citizens or businesses seek a deeper connection to customers, interactive digital signage makes this possible like never before.
Analytics and product recognition
Interactive digital sings bridges the gap between the online world and the customer. Problem of outdoor advertising was the blur in performance tracking. Exact tracking of digital content in public spaces was always a problem. Unlike in online advertising, where clicks and conversions are easy to measure.
Touchscreens made tracking easier. Touches on specific content can be easily measured and can assess the exact performance of advertising campaigns and the return on investment. Beside touchscreens other new technologies are coming into play: proximity sensors, RFID chips and cameras with face recognition. In 2013 Tesco announced a plan to tailor adverts via facial recognition. Their plan was disrupted with strong privacy fears. In 2020 face recognition is the new normality. Technology and people's perception changed. Modern cameras with smart algorithms can measure exactly whether a person is within range, whether that person is looking at the target medium, and is able to detect parameters like age, sex and mood. This technology can continue the transformation of outdoor digital signs from a passive medium to a personalized experience, this started few years back with introduction of touch screens. Wrapping the forecasts up We're witnessing the rise of new technologies, which are enabling creative usage of digital signs. While outdoor digital signs are becoming the norm, their function is transforming from "just" getting attention to a personalized, user friendly experience. If you're looking to integrate outdoor digital signage into your business, then it's important to keep track of the latest developments. Digital signage industry is, as every frontier tech, complex. It's easy to get confused in increased solutions available on the market and constant development. If you want to clarify your thoughts, or just get basic info about outdoor digital signs, we are happy to help!
https://cnnlcd.com/wp-content/uploads/2020/07/图片3.png
400
495
administrator
https://cnnlcd.com/wp-content/uploads/2020/03/logo-1.png
administrator
2020-07-21 03:33:47
2020-07-21 03:38:44
Outdoor lcd digital signage trend