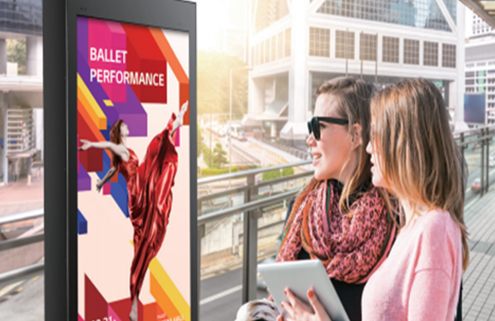 Recently, with the increase in the application of outdoor advertising machines, especially 55-inch high-brightness LCD panel are in great demand. Samsung, LG, AUO, BOE, CSOT has related LCD panels. However, there are not many commercial applications. For this reason, Fengshi Technology combined with its own new generation of high-brightness backlight, equipped with commercial LCD panels, so that the 55-inch high-brightness LCD screen is truly industrial-grade and fully meets commercial needs.
The commercial grade panel is mainly for long continuous working time, which can meet 7*24 hours of work, and can support vertical and horizontal placement. Able to work stably for a long time. The 55-inch high-brightness LCD screen introduced by Fengshi LCD adopts AUO's commercial LCD panel, combined with a new generation of high-brightness LCD module, direct-lit LED backlight, more uniform brightness and better thermal conductivity. The display brightness is 500nits and 5000nits. Under direct sunlight, the display color is gorgeous. 7*24 hours can work stably. Now stocking a lot. 55-inch high-bright LCD screen can be stably supplied for a long time.
As we all know, a large number of TV panels have been applied to digital signage in the market recently, and LCD screens have become unstable. When the display is placed vertically, smear will appear, and the lower part of the LCD screen will yellow due to gravity, which seriously affects the display effect.The emergence of industrial-grade high-brightness LCD screen completely solves the normal work of 55-inch high-brightness LCD screen in the harsh outdoor environment.Fengshi is a professional manufacturer of high-brightness LCD backlight modules.
Our technical team has participated in the R&D and production of the earliest high-brightness LCD backlight module in China, and has many years of experience in the development and production of high-brightness LCD screens. Developed 10.1—98-inch 500nits-5000nits high-brightness LCD screens with various brightness, splicing screens, and strip screens. All applied to the commercial display field.
Our team has many years of experience in the outdoor LCD advertising machine industry, and participated in the research and development and marketing of the earliest outdoor LCD advertising machine in China. Outdoor LCD advertising machines have been used in transportation industries, scenic spots, commercial squares, municipal facilities, smart city construction and other industries around the world. It can provide comprehensive technical support and services for outdoor applications of high-brightness LCD screens.
https://cnnlcd.com/wp-content/uploads/2020/06/lcd-display-outdoor.png
400
495
administrator
https://cnnlcd.com/wp-content/uploads/2020/03/logo-1.png
administrator
2020-06-18 09:50:34
2020-06-19 03:41:57
Fengshi LCD launched industrial-grade high-brightness LCD panel