There is no question that businesses are feeling the effects of the COVID-19 pandemic. Over the last few months, brands and consumers have had to adapt to change quicker than at any time in recent history. The way we do business is changing, and with no clear end in sight, companies must get creative and move fast as they prepare for the future.
From empty stadiums to curbside pickup, companies have had no choice but to go along for the ride. As states begin to lift restrictions, businesses must be strategic as they implement experiences that will give consumers the confidence to resume in-person commerce.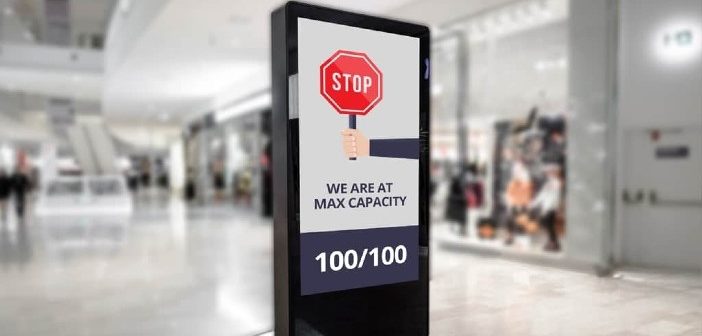 How lcd digital signage can help calm the storm
The implementation of traditional static signage has been vital in educating consumers about social distancing and good hygiene practices. The presence of these reminders has helped calm the many fears as consumers begin to move forward, resuming their normal activities. As health experts learn more about the virus, news and recommendations continue to change. Because of this, static signage is not a long term or cost-effective solution.
Modern digital signage has changed how we communicate with the masses. The evolution of both hardware and cloud-based CMS technologies has led to the development of new digital applications. These applications are helping businesses solve many of the current challenges that doing business in a worldwide pandemic creates.
LCD Digital signage helps businesses simplify tasks.
As businesses reopen, public health officials have asked companies to limit the number of customers allowed in their stores. To manage this, many have assigned dedicated employees to count customers as they come and go.
Access control widgets to help businesses simplify how they track and communicate to waiting customers are now being produced. With any mobile device, employees can easily +/- visitors as they come and go. Live numbers can then show on a nearby digital signage display to keep waiting customers informed. Once at maximum occupancy, on-screen messaging can instantly be triggered to show custom content to those waiting to enter. To further simplify, the ability to count customers and trigger content without the need of an employee is possible with minimal add ons to these kinds of developing solutions.
High Brightness Digital signage helps keep the curve flat
Offering personal protective equipment for customers is a great way to rebuild consumer confidence. Many digital signage providers now offer wellness kiosks that consolidate everything needed to both educate and protect customers.
With these kiosks, customers are encouraged to step up and receive a hands-free temperature reading. The results are then instantly visible on a built-in HD display.
Gloves, masks, and hand sanitizer are available directly within the kiosk to offer customers the tools and supplies they need to feel safe and protected.
Digital signage helps educate, remind, and inform.
We all know that practicing good hygiene is critical, but changing bad habits takes time and requires constant reminders.
With millions of highly visible displays around the world, digital signage continues to be the perfect channel to remind and educate the general public about the importance of social distancing and good hygiene.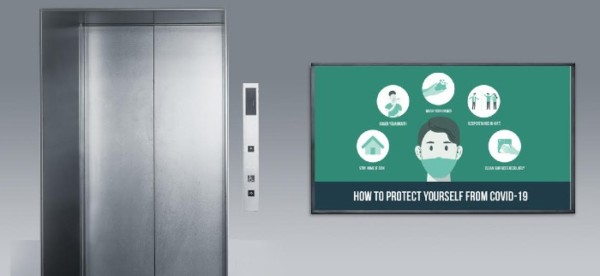 Because many of these displays run on cloud-based content management systems, it's easy to push updated and relevant content from anywhere.
There are many free COVID-19 digital signage templates available online that anyone can download to help educate and spread awareness.
Until a vaccine is readily available, the world must learn to adapt to this "new normal." As we move forward, digital signage technology will continue to evolve into practical applications that give consumers the tools and confidence they need to enter back into the world.
https://cnnlcd.com/wp-content/uploads/2020/08/digital-signage-6.jpg
400
495
administrator
https://cnnlcd.com/wp-content/uploads/2020/03/logo-1.png
administrator
2020-08-12 01:59:43
2020-08-12 01:59:43
How digital signage helps businesses adapt to the "New Normal"