Does your digital signage effectively deliver content that keeps the attention of your viewers? In today's digital world simply playing static slideshow messaging gets ignored. You have less than 10 seconds to keep a viewers attention…so how does your content keep them continuously engaged. This is where a "Content Rich" display can make the impact you need. Content rich does not mean just lots of content, it actually refers to the idea that your software and apps power your signage itself with ever changing content that targets your audience, feels fresh and is relevant to trends happening. Ignoring the need for a content rich display software will only limit the effectiveness of your digital signage lcd display investment.
So it is important to understand what content apps and widgets are available for you to create and automate content within your digital signage software. There is a large range of digital signage software applications that offer different levels of content creation flexibility.
Basic slideshow functions – no app integration or individual sections
Enterprise development – custom developed and costly updates
Zoned content – specific content in specific spaces with no flexibility
If a content rich display is your goal then you will want to choose a signage software that offers built in widgets and apps to give you flexibility and keeps your display current while minimizing the daily demands on your time.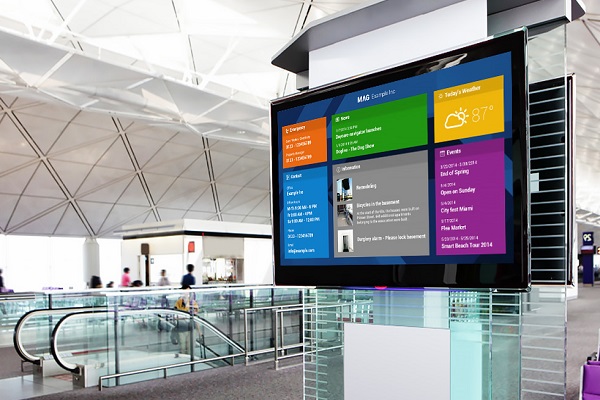 Fengshi LCD digital signage offers many widgets and apps ready to handle content by linking to many web based feeds available.
Flexibility is Key for Engaging Digital Signage Content
With so many content widgets available it is also important to be able to manage, plan and organize your content as you want it to display. A flexible high brightness digital signage software like fengshilcd allows you to customize any layout with the content you need to support your digital goals. if you want a special widget, Fengshi lcd developers are available to discuss options. Having templates or free form pages that allow for customization is a must have feature. Being locked into limiting layouts will limit how effectively you can display rich content. One tip is not to overload your page with too many elements displayed at once. This will only turn away viewers with confusion because of the lack of focus. Instead, an effective design is one with a multi page feature that allows you to transition between content widgets so that each page stands out and speaks to your viewers. Fengshi digital signage lcd display lets you manage pages with rich content that you can plan and schedule to play while rotating through widgets with timing and automated feeds for digital success.
https://cnnlcd.com/wp-content/uploads/2020/08/Digital-signage-8.jpg
400
495
administrator
https://cnnlcd.com/wp-content/uploads/2020/03/logo-1.png
administrator
2020-08-13 02:14:37
2020-08-13 02:27:16
Creating content rich digital signage